Like a big cup of coffee first thing in the morning, TMI THURSDAY is here to help push out the unmentionables.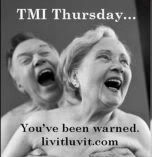 Thanks to
Lilu
for creating such a warm, happy feature for blogland - where we post just a liiiitttlle bit Too Much Information...on a Thursday.
The other day I ran out of toilet paper. I scanned the room and did a crab walk* for the first thing I could find - a newspaper. Now, much like when you press Silly Puddy onto a newspaper, I like to think that I walked around the rest of the day with that days stock information imprinted into my ass. Or maybe a Peanuts cartoon. Oh Lucy, when are you going to let Charlie kick that football!
* Hilariously misspelled as "crap walk" the first time I typed it.
What is the weirdest thing you've ever had to use after running out of toilet paper?